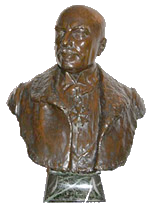 SOFICA - Magasins Généraux d'Angers – was created in 1925 by Adrian Frappier, manager of Bessonneau Establishments.
His main objective was to store his own raw materials and use the warranty system to finance his financial, commercial and agricultural operations (SOciété FInancière de Commerce et d'Agriculture)
When Bessonneau Establishments were sold in the sixties, SOFICA took over the holding company, bought his own lands and warehouses, becoming completely independent and owner of its corporate assets.
From that day onward, SOFICA developed a multitude of services and is constantly researching for new methods.
Thanks to its size, the adaptability to new challenge is its strength.
Member of the Management Committee of FEDIMAG : « Federation of Warehousing Logistics», SOFICA takes a prominent part, participating in several professional boards.